The advantages of single source supply for the laminates and panels industry
A one-stop shop strategy for raw material sourcing helps Haarla's B2B customers optimize their production processes and improve the quality of their end products. With single source supply from Haarla, our customers in the laminates and panels industry can get tailored product packages for a hassle-free production process. Quick expert assistance is available in case of problems. In this article, we explain what single source supply means and how it can benefit your business.
Manufacturing engineered panel products and laminates requires a number of raw materials, many of which are complex mixtures and highly refined chemicals. Buying all these materials from different manufacturers requires time and effort. Prices, terms, and conditions need to be negotiated with every supplier. Managing a large network of different suppliers internationally is challenging and makes one vulnerable to delivery delays and market fluctuations.
A one-stop shop strategy for sourcing the raw materials – single source supply – has several benefits for the industrial manufacturer. Quality assurance, a smooth supply chain as well as a reduced impact on the environment are the key benefits for our customers in the wood panels and laminates industry. Furthermore, sourcing everything from Haarla makes issue control easier. As a supplier, Haarla is responsible for the whole supply chain and the quality of the products. If something was to go wrong in the manufacturing process, the customer does not need to contact dozens of different suppliers to track the reason and solve the problem. Instead, they can simply contact Haarla who will take care of tackling the issue.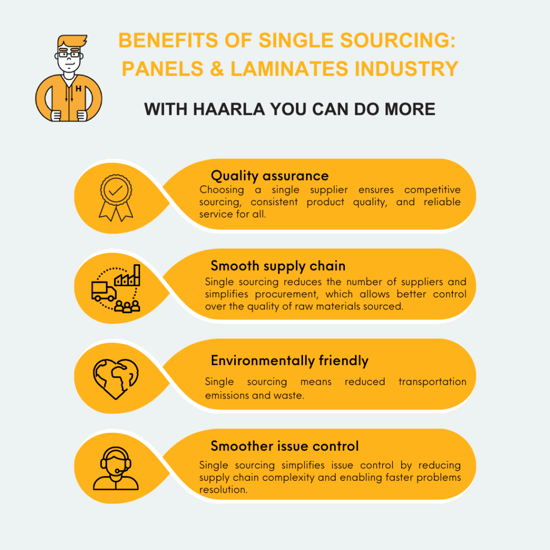 By grouping a variety of products from different sources under one roof, the customer benefits from an optimized supply chain. This does not only reduce logistics costs but also leads to fewer transports and thus, a smaller carbon footprint. We keep our customers and the planet happy.
We know our customers' processes
For over six decades, Haarla has worked to build a strong network of quality raw material suppliers from around the world. For our customers in the laminates and panel industry, Haarla supplies, for example, tailor-made colorants, catalysts, resins, wetting, release and anti-dust agents, as well as plasticizers. You can get all your needs met with a single, tailored package from Haarla.
At Haarla, we always strive for supreme quality and cost-effective solutions. Our customers benefit from our years of expertise: We always work together with the customer, getting to know their exact processes and needs in order to then offer the most optimal products. If you want to reach excellent finish with less hassle and find the best single source solution for your needs, our experts are at your service!