Quality assurance plays a key-role for food manufacturers.
In a world where raw materials often travel thousands of miles before reaching the production line, ensuring performance of your product is paramount at every stage. Taking into consideration ongoing pandemic, professional, top-notch food inspections are important more than ever before to give you an accurate picture of your end-product safety and quality upon its destination.
Haarla Oy starts distribution of Trivision solutions in Finland
Haarla Oy is as a trusted supplier and solutions provider with over 20 years of experience in food sector. Together with our new partner – Trivision – we want to provide the best solutions for food quality assurance on Finnish market.Our goal is not only to support Finnish food manufacturers in reassuring product quality and food safety, but also to reduce quality assurance costs, expensive food loss and waste through reliable automated inspection and intelligent data utilization.
"We see Haarla Oy as an attractive partner for multiple reasons. Besides having run a solid business for years as a supplier for the food manufacturing industry, the Haarla team also possesses great technical abilities, a great knowledge about machine vision and a professional approach to their markets and customers", says Jesper Bach, Managing Director at TriVision.
TriVision's successful story starts with three Danish machine vision pioneers who were eager to push the boundaries within machine vision and turn it into an efficient, accessible tool for the food manufacturing industry. TriVision develops high-end, user-friendly quality control systems based on machine vision technology for the food industry and the pharma industry. Trivision's mission is to enable manufacturers to ensure product and packaging quality, obtain reliable documentation, optimize the production and become more sustainable using production intelligence – everything to provide top-notch quality of your end product.
Haarla Oy since the beginning of 2021 is the official distributor of Trivision machinery in Finland. For fish, cheese, ready-to-eat meals and meat sectors we supply following machine vision inspection of food packaging:
VisioPointer® – Complete quality control of food packaging
VisioPointer® is a high-end, state-of-the-art quality control system designed for thorough quality control of food packaging. The system is based on TriVision's advanced machine vision technology, making it a highly reliable, accurate and efficient quality control system. With light and camera setups both above and below the unit's built-in conveyor belt, VisioPointer® can inspect labels and artwork, barcodes and printed date markings both on the top and the bottom of different types of food packaging. VisioPointer® also inspects the package seals of for example thermoformed packaging, tray sealed packaging and vacuum skin packaging.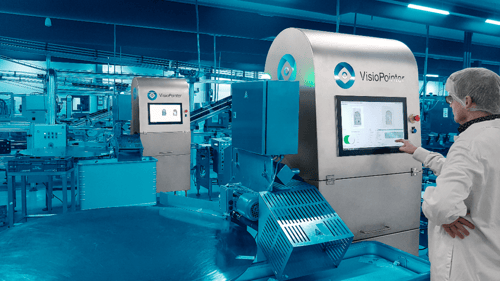 An advanced quality control system that is easy to operate
VisioPointer®'s operating system and interface are developed by TriVision to be intuitive and user-friendly for the operator. That supports the production team in minimizing flawed products, waste, downtime and costs. From an integrated touchscreen, the operator can operate the system, monitor the production and errors, spot trends and make quick adjustments.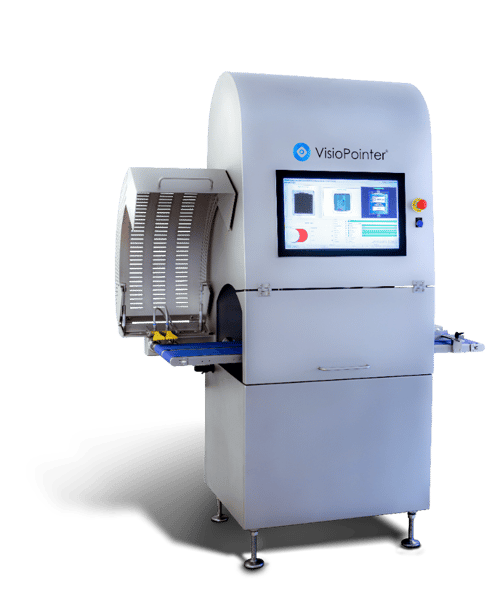 SmartInspector® – Advanced vision-based quality control in a simple fashion.
SmartInspector® is a high-end quality control system used for label and artwork inspection, barcode inspection and print inspection of different types of packaging. With a compact, minimalistic design, the SmartInspector® is a plug & play solution that is easy to implement onto any existing production line because of a small footprint. The system comes in different widths and is mounted with brackets onto an existing conveyour belt.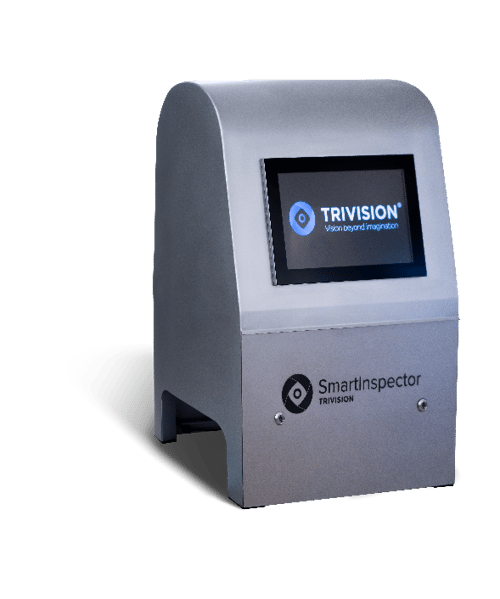 SmartInspector® works both as an efficient label inspection system, print inspection system and barcode inspection system – all in one. The system can inspect labels, artwork, print and barcodes on all sides of the packaging at high speed. SmartInspector® is a versatile, yet simple solution, that help food manufacturers with the individual inspection. Similarly to VisioPointer®, SmartInspector® is operated with TriVision's own user-friendly, intuitive operating software, making it extremely user-friendly for operators. From the system's built-in touch screen, the operator can easily monitor the production performance and error types. This facilitates trend spotting and adjustments that can help reduce waste and unplanned stops, contributing to production optimization.
Trivision – Pushing the boundaries within machine vision
With VisioPointer® and SmartInspector®, standardized quality control systems designed as single units, TriVision offers advanced, thorough machine vision-based quality control of food packaging that is simple to implement in new and existing production lines. TriVision's systems are today installed in more than 20 countries and are sold through a network of more than 14 distributors around the world. Since Haarla is an exclusive distributor of TriVision's machine vision systems for automated quality control of food packaging, Finnish manufacturers can look forward to accurate label, excellent date marking verification and the world's most reliable visual verification of package seals, based on TriVision's leading vision technology.
Want to discover how Trivision machinery can help your business with quality assurance and production optimization? Would you like to set up trial session with Haarla experts? Contact Haarla Engineering team.
More about Trivision: www.trivision.dk