Dehscofix SC12, a water-soluble coagulant developed by Innospec, improves the efficiency of your mineral processing.
For us at Haarla, it is important not only to supply high-quality raw materials, but also help our customers optimize their processes and reach better efficiency. Together with the global specialty chemical company Innospec, we offer innovative and easy-to-use solutions for our customers in the metal extraction industry. Our hydrometallurgy product range includes Innospec's water-soluble polyether coagulant Dehscofix SC12, which helps manage issues caused by colloidal silica in thickener stage of the leaching process.
The hurdles of colloidal silica
During the leaching processes, when the targeted minerals are being dissolved, large amounts of silicic acid can grow out of the solution. The silicic acid then forms colloidal silica and silica gels that can have serious implications for the efficiency of mineral recovery. The silica gel blocks flocculant molecules from cross-linking and creates an impermeable net, making it more difficult to separate light and heavy material from each other. It can also interfere with solid-liquid separation (SLS) in the clarification or thickening stages, disturb flocculation, and initiate crud formation. One of the problems of colloidal silica has to do with its small size – it can typically get through the filters and is thus hard to control.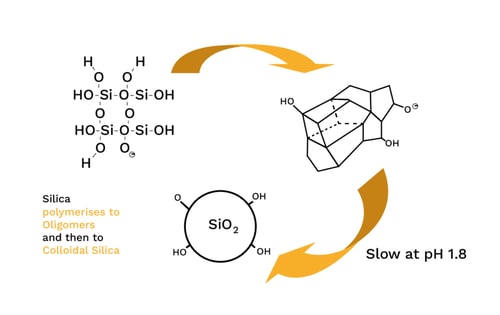 Coagulant to the rescue
Dehscofix SC12 is an effective coagulant to mitigate the issues caused by colloidal silica. With SC12, the concentration of colloidal silica in a solution can be lowered. The coagulant minimizes the impact of colloidal silica on the thickening and flocculation, reduces solvent losses and prevents crud formation, leading to improved process efficiency.
The SC12 coagulant increases the size of the colloidal silica particles and reduces their number. The larger colloidal silica particles can then be removed from the solution.
Dehscofix SC12 is an alternative to cationic coagulants whose correct dosing is difficult, as the optimal dose fluctuates. Dehscofix SC12 is neutral charged, which makes it safer and easier to use. To reach successful coagulation, the SC12 is added to the solution early on in the process, before adding the flocculant. Dehscofix SC12 is effective against colloidal silica in a wide pH range.
Optimizing processes – together
Haarla is also available to help you test the presence of colloidal silica in your solution and to determine the right steps to manage it.
At Haarla, we always want to help our customers make good choices. Haarla is the official supplier of Innospec in Finland and the Nordic countries, as well as in the Eurasian CIS-countries. If you want to discuss improving the efficiency of your metal extraction process, the Haarla experts in our Enviro team are at your service.