After three years of negotiations, the Mobility Package has been officially accepted by the European Parliament – this means that the transport of cargo on the road will change dramatically. The new rules, which are set to come into force on different dates, will also impact container logistics as we know it, including truck turnaround time. The most crucial part of the Mobility Package will come into force in February 2022, directly addressing driving rest rules, return of trucks to their country of registration, and changes to cabotage rules.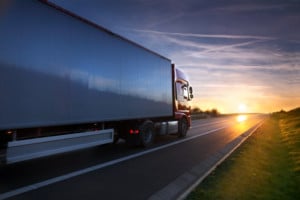 Key objectives
Representing one of the biggest changes to EU road transport rules, the European Commission's Mobility Package is a collection of three initiatives concerning the governance of commercial road transport within the European Union's borders. Its main objective is to properly balance transport safety and ensure equal working conditions by making the road system more sustainable. According to its main provisions:
the minimum wage laws become mandatory for all member states of the European Union. This means that if one of the EU transport companies posts their driver to work in another EU member state, they will need to pay the same wage as for a local driver.
return of the driver to the country of origin will be mandatory every 4 weeks for each period of 3 or 4 consecutive working weeks.
the regular weekly rest period (more than 45 hours) shall be taken in a suitable accommodation paid by the company.
drivers shall have a cooling off period of 4 days after the return to the home state of the vehicle.
tachographs become mandatory for all vans and light commercial vehicles weighing between 2,5 tons and 3,5 tons, which also implies that small transport operators will be subject to the EU norms for transport.
Consequences and impact of the Mobility Package on European Road Freight Operations
So, what do these changes mean in practice and what kind of a future awaits European transportation?
According to studies commissioned by European authorities, the return obligation of lorries and quotas on combined transport operations will bring negative effect on transportation, making upcoming road freight season in Europe challenging. We may expect the following difficulties and changes, such as:
Increased travel: According to experts, traffic can increase by 1,9 million in 2023 – compared to trends before the implementation of the Mobility Package. We shall expect over 1 million additional trips. The increase is the direct outcome of trucks being forced to return to their home state every eight weeks.
Noticeable increase in prices of logistics for having cargo transported by road: This price increase will be going down the logistic chain. It is still under discussion who will be paying the increased prices, but based on educated guesses, it will be the end consumer.
Impact on CO2 emissions: By creating urge for additional journeys, the Mobility Package rules will increase up to 2,9 million tons of additional CO2 emissions by 2023. It gives a 4,6% increase in international road freight emissions overall.
There is a variety of negative implications being forecasted as a direct consequence of the new rules. Critics of the Mobility Package are pointing out that insufficient infrastructure and transportation tools won't be able to provide the sufficient grounds for successful implementation of the new regulations. In words of Tom Cook, the CEO of Apple: "Too many people seem to think that good intentions excuse away harmful outcomes." Hopefully, while some factors are out of control for the logistics sector, road transport providers along with suppliers are still able to manage some of the challenges effectively.
At Haarla, we are carefully following the situation – we believe that the best strategy for the unknown and changeable situation is good communication and close cooperation with both trusted logistic partners and suppliers. Our specialists and customer service are reacting immediately to any news, doing their best to keep our business partners and customers updated. To stay ahead of the game, we encourage you to contact your Haarla representative in advance and discuss your purchase strategy for the beginning of 2022. Also, if you wish to learn more about the Mobility Package, check the European Commission's report here.
Yours,
The expert at your side