As the world continues to evolve, so does the food industry. From vegetarian eating to sustainable packaging, the top food trends for 2024 offer a glimpse into the future of food and what manufacturers should consider in the years to come.
Plant-based proteins, innovative flavors & textures
Plant-based diets continue to rise in popularity, with a growing number of consumers opting for meat-free alternatives and vegetarian products. From plant-based burgers to vegan cheese, the demand for healthier and more sustainable products is on the rise. For several years, pea protein has been the go-to choice in the European market, but we are now seeing a growing interest in other plant-based options like sunflower protein, as well as in new and emerging proteins like potato protein.
In addition to the taste, also the texture of the food has become more and more important for consumers. Getting the taste and mouthfeel right can sometimes be challenging when working with plant-based ingredients. Tailor-made stabilization and flavoring compounds offer a quick and easy way to enter the market. Additionally, in recent years, flavor specialists have developed clever solutions for masking the undesired off-notes in the flavor profile – without the need to use artificial sweeteners.
Healthy for the body and the planet
Sustainability is a top priority for consumers, extending from responsible production and natural ingredients to product packaging. Many food manufacturers are committed to reducing their environmental impact. They are opting for eco-friendly packaging materials, such as biodegradable and compostable options, to reduce waste and protect the environment. Also, alternative water treatment solutions are widely used to decrease the amount of water used in production processes.
Food manufacturers are also constantly on the lookout to substitute their raw material ingredients with more sustainable ones. One example of this is replacing traditional oil-based vanillin with bio-renewable wood-based vanillin. Choices like this also enable the manufacturer to replace raw materials from overseas with EU-produced ones.
As the world is heading towards a more sustainable future, experts like Haarla are needed to help reach positive outcomes through process efficiency and responsible production. True sustainable development requires understanding the big picture and, accordingly, finding the correct solutions.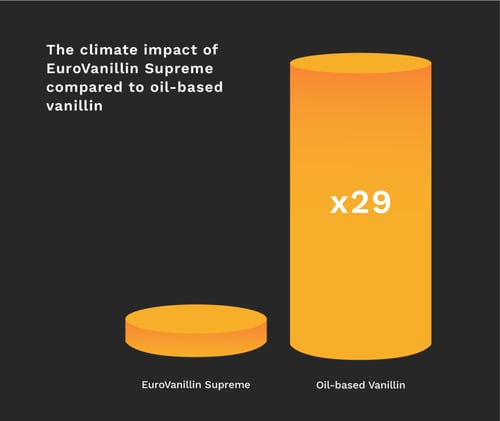 Health and wellness are at the forefront of consumer concerns, leading to a rise in demand for functional foods and drinks. From probiotic-rich yogurt and functional teas to fibers for a healthy gut, consumers are looking for ways to improve their overall health and wellbeing. Many consumers are also increasingly worried about sun damage, leading to a rise in the development of UV supplements. In general, ingestible beauty supplements have lately seen an increase in popularity.
For us at Haarla, it is important not only to supply high-quality raw materials, but also help our customers stay on top of the newest developments of their industry. If you want to discuss the optimal solutions for your manufacturing process, the Haarla experts in our Food team are at your service.